In the coming weeks the Update content is bound to thin a little bit, making the Weekly Round Up Video look even more desperate.
[youtube:http://www.youtube.com/watch?v=PEev1RJcquc]
** UPDATE FROM IT SUPPORT INTERN HANNAH **
Hannah says you might have trouble viewing the video above if you've been automatically opted in to Youtube's HTML5 video trial.  Opt out as it's the best thing to do, unless you really love being a "Beta Person" and like to point out "bugs".
---
OH GOOD GOD THERE'S ONE WITHOUT ITS HEAD ON AND OTHERS WITHOUT HANDS!
Stopped shrieking in ABJECT HORROR just long enough to embed an image of the "Sonic The Hedgehog 20th Anniversary Figurine" assembly line.  Then went back to the shrieking.
We're going to have nightmares for weeks now, the sheets won't take the pressure.
Nobody has yet complained why poor Old Sonic is confined to a CRT PC Monitor.
---
SEND A BRICK TO NINTENDO TO VOICE YOUR DISPLEASURE
At all the personal user details and various other things you're currently stuffing into your Nintendo 3DS.  Regular "Video Game Zeitgeist Reporter" GigerPunk submitted this chilling tale of corporate snooping.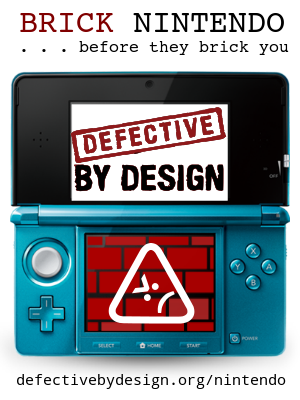 Serves you right for taking all those 3D pictures of your female co-workers, no sympathy.
---
SAINTS ROW BOOTH BABES PUT TO GOOD USE
That's "use" as in doing something else other than making nervous-looking men incredibly frustrated and spiteful towards all women.
"Bitch had better get those rims waxed".  One final image from our new Flickr friend Faperture.